As a high school student, Mitch was already training quarter horses…specifically Sassy, a buckskin Dandys Dee Bar mare. Sure, there were other horses, but there was something special about this mare, who has continued her career as a wonderful broodmare. Growing up, many trips were taken to Lawrence Hansch and Dave Fairchild's facilities for lessons.

Time marched on, and Mitch worked as assistant trainer with Jason Roll at Doug Jacobs Quarter Horses. Eventually, Mitch moved on and also worked with Dick and Stephanie Meyer, Jay Jordan, and most recently Troy Compton.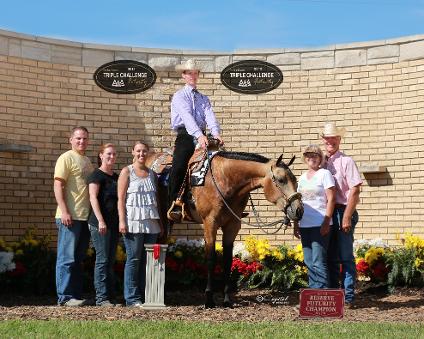 Mitch has worked with everything from yearlings training for longe line futurity classes to starting and finishing 2-3 year old western pleasure futurity horses. He has worked with customers of all ages and also crossed over into buckskin, palomino and paint shows. Mitch has won multiple champion and reserve champions at futurities and shows such as the NSBA World Show, Palomino World Show, Buckskin World Show, Southern Belle, The Silver Classic (Nebraska) and Iowa Futurity, as well as Top 5 and 10 placings at the All American Quarter Horse Congress. Most recently Adkins has had much success with Blue N Lucky Too in both pleasure and trail classes. Mitch enjoys the challenges of starting colts and celebrating their success as they go on to become great show horses. In addition to training horses raised by the family, Mitch also trains and shows customer horses. Please contact Mitch for details regarding training.

Dean and Marlys have been raising colts for over 20 years, and more recently have been focused on breeding for pleasure prospects that will go from longe line to western pleasure and eventually all-around horses. Breeding for good dispositions and natural ability is extremely important to them.
The broodmares' bloodlines all go back to Machine Made and Macs Good n Plenty, which they believe make good crosses with a range of different sires.
Please contact Dean and Marlys for information on pleasure prospects that are for sale.